Happy Friday! We've made it through another week.This Friday I've rounded up a selection of some of my favourite brass decorative objects. Decorative objects are such an affordable way to update your space and look great on desks, book shelves and coffee table. I've included some inspiration as well! I hope you like my picks… and this has inspired me to work on a shelf styling post so stay tuned.
Enjoy!
West Elm Symmetry Objects – These come in two sizes and in both gold or iron. The small and the large objects together would look great styled on a bookshelf.
Indigo Brass Ampersand Object – Can either be used on a shelf on it's own or can function as a book end.
West Elm Brass Wishbone – This gold object looks great on a desk or on top of coffee table books for a perfectly styled coffee table.
Elte Market Spike Wall Pod – Place the spike pod on top of a stack of books or magazines either on a coffee table or in a book case.
CB2 3 Piece Brass Wire Cube Set – These are very affordable and you can 3 wire cubes all together which makes styling easy. These can easily be scattered within a book shelf.
West Elm Hello Word Object – Looks great on a desk or a book shelf.
Indigo Be Yourself Brass Object – I would use this brass object within a book shelf styling.
Crate and Barrel Clarus Brass Display Boxes – These are so versatile and can be used empty or you can place keepsakes inside. They come in various sizes too so either use one or stack them.
Anthropologie Quotation Marks Book Ends – Seriously, how cute are these?
Inspiration: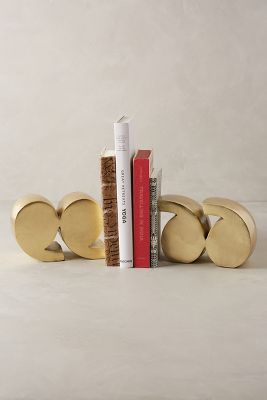 Featured Image via Sarah Sherman Samuel